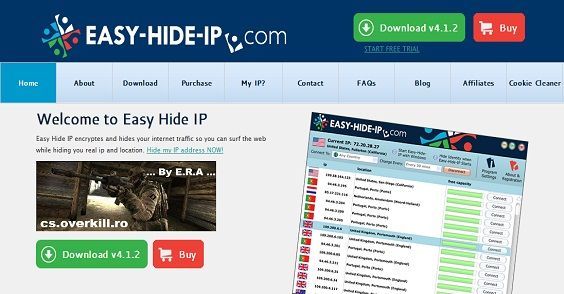 .... Copyright and Privacy Protected By E.R.A .....



A. Download Auto Mouse Click (not cliker) just click
from: http://www.murgee.com/auto-mouse-click/

Two. dounload: TMAC v6.0.3
from: http://www.technitium.com/tmac/index.html

3.download: Easy-Hide-IP v4.1.2
from: http://www.easy-hide-ip.com/

WARNING DO NOT INSTALL THE SOFTWARE BEFORE YOU READ BELOW HOW TO INSTALL may not. S must be installed so your fool enough to each other. (If you can install normally easy-hide-ip use with only one license. What I write and look now you will not find on the net. Many people try to find a weakness in the program. On Youtube are easy hide ip solutions only version old).

! All programs are free. ! But used together have unlimited IPs to give Like on facebook to generate traffic to specific sites, to give votes to make money from clicks on the internet to access hulu.com and CNN.com. co.uk etc ....

Step 1. Need to know:

a) The Easy Hide IP v4.1.2 has several IPs (about 800-900 IPs) than the older version such as Easy Hide IP v3.7.4. (About 600).

b) Easy Hide IP v3.7.4 this program has only one defect. So you use all the 600 IPs from the old version Easy Hide IP v3.7.4 should change every ip in less than one minute. Why say that?
Because they give the old version refresh every minute and if you stay after changing IPs and you risk eventually meet them again.
Thereby losing IPs inaccessible.

c) Easy Hide IP v4.1.2 new version works very well but can be installed multiple times on the same PC (its the message you receive when try to install it after the license expires).
The new version has no effect if you go to "start" "run" and type "regedit" and delete from there license.

b) Many people do not know how to use the new version v4.1.2 Easy hide ip several times. An infinite times.

Step 2: You should know:

a) The TMAC v6.0.3 Mac help change lanes in the PC. Easy to use. Many of you can change yourself but the MAC with the RDS PPPoE ISP or other provider can not change it. But with this program.

Step 3: You need to know:

a) Auto Mouse Click Program (from: http://www.murgee.com) is slightly harder to use. Direct request is simple but hits multiple entry multiple windows or writing on the net page is more difficult. Why do I say this because I have to schedule "clicking" in every place you want to access. And to write the net Magin "log in" "write" "give spam" "give Floda" "give lick" etc. .. -> Go to "Start" "Run" and write "sok" (you will see a keyboard descktop) mouse is on RMA learn to type where you want when you want and what letters to write. What I have written in step 3 is for those who already played with programs or query is at least 2 .. 3 days and gave them headaches. Otherwise, skip Step 3. That is not used descktop keyboard. Learn to click the mouse just for starters.


!! ...... INSTALLATION ......!! (INSTALL programs than in that order)

Point 1: Put all DOWNLOADED PROGRAMS Desktop

Point 2: Deconectativa the Internet -> and the ISP and the Local Area

Point 3: Install -> Auto Mouse Click <- (after installation automatically opens when you close it)

Point 4: Install -> TMACv6.0.3 <- (this program installed ahead of Easy Hide IP. Why? ... Because it gives "easy hide ip program" your real MAC.

Section 5: Open TMAC v6.0.3, you will come to associate some file with the program, choose YES and OK. After chienarul open border that left you will see a button "Change Now". Click ... Changed your MAC? Yes ... You must show you there.

Section 6: let the program run TMAC. Punetil in bar.

Item 7: Install Easy-Hide-IP v4.1.2 After installation will ask you to restart the PC. Restart but without closing the TMAC.

Section 8: PC Turns back. If you notice he wants to automatically connect to the internet your IP address, remove the cable net or deselect quickly without get to connect.

Item 9: You write that Easy Hide IP v4.1.2 is not connected to the internet (or conservation measures). You close it completely.

Item 10: Start and TMAc You will notice that the MAC are connected to the set before I take your PC restart. So its very good. You minimize the home bar.

Point 11: Turn back your Internet connection and Broadband Local Area Connection (or Dil-up ISP as you have set). If the connection was established the next step.

Point 12: Go to "Start" "All Programs" and open the Easy Hide IP. Send an email asking you to give your license. You have been licensed and put there ready click click ..

These are settings for correct installation.

CONGRATULATIONS YOU HAVE BEEN TO THE LIGHT


Little more difficult

Point A: Open Auto Mouse Click in the corner will need to add commands. Start and stop "Ctrl + the key you want" cursor poztiei capture Ctrl + the key you want "better to be both keys together. Then open and Easy Hide IP v4.1.2.

Point B: Uncheck the Hide IP Easy to ignite with no PC and changing their IPs automatically. Any leave the country.

The hardest point.
Section C: Auto Mouse Click Descending must enter all the commands you want to give the mouse.
Example: If you want to open an internet window we go to press Ctrl + cursor to the window set for the capture key. We go in Auto Mouse Click and you will notice that appeared above two coordinates X and Y axis (as in mathematics in grades 1-4) to set the double left mouse click (because that window open).
From here we will help you as you play with the programs clicked.

For some reason I can not help you further:
1) If you give my details do not match your monitor resolution.
2) The adjustments made by me on the net browser and how to open my programs do not match your standardized adjustments.
3) C "you what each develop their imagination.

END

.... Copyright and Privacy Protected By E.R.A .....